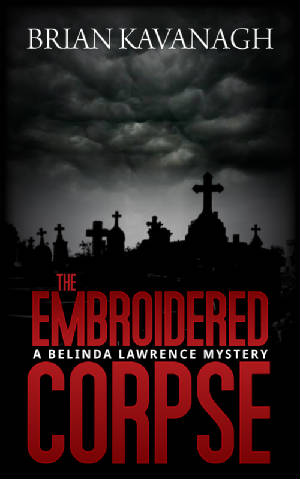 'As I said I love Belinda....and I love her friends and her cottage and especially the situations that she gets into. Who would think that attending an auction with her friend Hazel would lead her down a dark road involving an old tapestry ? Well that is exactly what happens in The Embroidered Corpse and one's imagination cannot even begin to amount to the degree of storytelling that Kavanagh is quite capable of !!!
I suggest that you don't even give it any thought other than to pick the book up and open it to begin reading an amazingly captivating and exciting journey...... I predict you will also become a fan of this series !!!'
Review by Missi S.


**** Another Hit for Brian Kavanagh, June 19, 2013
By
Marvin Allan Williams (Fayetteville, North Carolina)
Amazon Verified Purchase
This review is from: The Embroidered Corpse (A Belinda Lawrence Mystery) (Kindle Edition)
This is the second book I have read from this author and again I was impressed with his ability to build suspense into the story-line without having to resort to gimmickry. A fine story by a great author. I was going to say this series was for anyone who likes British mysteries, but that would be an injustice because of the limitation. Instead, I will say it is for anyone who enjoys a finely crafted story.
'This is another fast-paced, enjoyable entry into the
Belinda Lawrence cozy series. Readers can enjoy
learning more about the heroine and seeing her
relationships develop more since the first book. His
characters are believable and he created villains you
can truly despise.
I love the way the author takes the reader right to
England and makes you feel as if you are really in a
small English village. ' ****
" Once again, author Brian Kavanagh has produced a well-written book: with a believable plot with just a touch of suspense and gothic horror, culminating in a very spooky graveyard climax. SALLY RODDOM
Feb 2007
First, both Dan Brown and Brian Kavanagh are great researchers. Their novels provide history lessons that make the reader curious about the past. (If as a reader you don't find yourself googling and researching the Holy Grail or Bayeux Tapestry, then you're probably curiosity-challenged.) OALA Reviews -Lee Gooden 8-27-06
Talented author Brian Kavanagh uses history to fashion a new type of mystery, combining clues from the days of the Norman invasion to murders in our own time. Join Belinda as she tries to figure out how it all connects. I'm pleased to recommend this fresh look at one of the oldest motives for murder to any mystery or fiction fan. A tale worth the time to read. Enjoy. I did. Review by Anne K. Edwards 09/24/06
http://www.Mysteryfiction.net
**** FOUR STARS. The Embroidered Corpse is one of the most thrilling stories that I have ever read. why? You'll find out… EURO-REVIEWS. Annick

'a great blend of gripping mystery with a little humour and a little romance. Whilst set in England it has an unmistakable Aussie touch, with the main character being an expatriate Australian and the English landscape and characters seen though her eyes.
Belinda investigates and finds a religious sect loyal to King Harold whose throne William took at the Battle of Hastings. Putting her life in danger, she searches for the truth as more people are murdered. This is another absorbing mystery well worth the reader's time whether he is an anglophile or simply loves a good read. Review- Nancy Madison (Clues to Love, Never Love a Stranger, What the World Needs Now) ___
Brian Kavanagh has created quite a likeable protagonist in Belinda Lawrence; independent, strong willed and smart, she's more than a match for some of the more unsuspecting adversarial characters in the book.
Rating: 3 ½ stars. This story has an incredible cast of characters and Belinda is a beguiling heroine. The mystery encompasses the past and the present, skilfully weaving a tangled tale as Belinda struggles to find the key to an ancient tapestry before its too late. For mystery and history buffs alike, this is a fast, clear read recommended for all ages. Jennifer Macaire, eBook Reviews Weekly. Author of 'Time for Alexander' ___
A pleasant fast moving story with much local color, witty dialogue, and much historical background about the Bayeux Tapestry and English history. The characters are portrayed with their eccentricities, their sinister designs and their charm. Barbara Buhrer - Reviewer's Choice ___
THE EMBROIDERED CORPSE incorporates so many layers to this story from the lively characters to the history surrounding King Harold's death; it is easy to miss important details if you rush. Tracy Farnsworth
http://www.theromancereadersconnection.com/
Hazel Whitby is a real hoot with a zest for life. She describes herself as Mutton dressed as lamb. Mark is patient with Belinda's determination to delve into mysteries but all will be in danger before all the facts are uncovered. Pat Reid - RAM Books 'n' Bytes