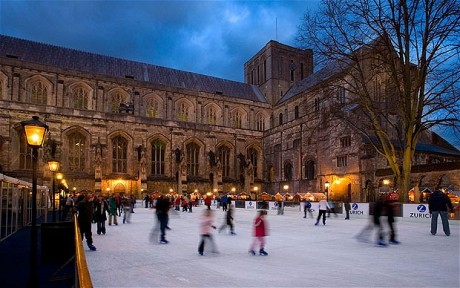 An excerpt from THE EMBROIDERED CORPSE, book two in the Belinda Lawrence mystery series.
This is the setting in Winchester, Hampshire.
Reverend Lawson made his way past Winchester Cathedral. The bus had deposited him safely at his destination and his indignation towards the troublesome young passengers dissipated although he had kept a wary eye upon them. He was relieved when, after the bus had drawn to a halt, they had pushed past the remaining travellers and, with an impressive display of immature animation, left the bus before disappearing into the evening mists.
The unpretentious fašade of the Cathedral loomed above the vicar, but in his mind's eye he recalled its cavernous interior and made a mental note to revisit it at the first opportunity. A remembered image of the mortuary chests located above the choir screens and reputed to have contained the remains of Anglo-Saxon kings brought to mind the justification of his visit to Winchester.
Pulling his coat close across his chest against any chill the night might offer, he clutched tightly at the bag containing the mysterious tapestry with the stitched image of William the Conqueror. He was eager to display it for Sir Gerald and anticipated many pleasurable moments in the forthcoming week as the two relived old times and pontificated on the origins of the embroidered work.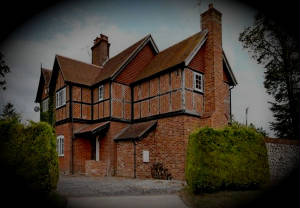 As he stepped from the shadows of the cathedral and hurried down Kingsgate Street to Sir Gerald's house he was aware of activity somewhere behind him. Loud laughter and ribald comment that sounded familiar unnerved him and caused him to increase his stride.
Through the congealing mist Sir Gerald's house appeared before him and with relief, he hurried up the steps, rang the bell and waited to be admitted. The insidious sniggering continued and he glanced over his shoulder. A streetlight switched on and beneath its glow he saw the young boy and girl, his aggravating travelling companions. They seemed consumed with each other and ignored him. He could smell the sour tang of chips and the greasy nauseating odour of hamburger.
To his relief, the door to the house was opened and he was admitted to its warmth and protection. The two young travellers seemed oblivious to his departure and continued feeding each other the unsavoury cuisine.
However, their laughter ceased and as the door closed behind Reverend Lawson they became silent and watchful. In the still Wessex night they were the only signs of human life in the now dark and deserted street. (C) 2013 brian Kavanagh
****Above Average Murder Mystery 22 Mar 2013 By Miss H. B. Grimmette - Published on Amazon.com Format: Kindle Edition I enjoy elaborate murder mysteries, particularly when the murderer has a signature move. The inclusion of medieval history and religious elements make this far more interesting than your typical crime thriller. The author builds the tension of the book to its climax excellently and Belinda is a refreshingly smart, likeable heroine.